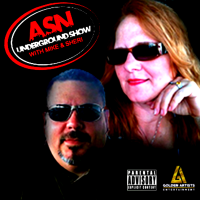 Mike is still recovering from his surgery he recently had so we decided to let him rest and play a show he liked. 
Mickey Mouse & Sex Clubs What a Vacation Bring Lots of Lube - Spunk Lube
WARNING: This program contains strong sexual content. No one under the age of 18 is permitted to listen to or download this program in any manner. The host, performers, and guests are all over the age of 18. Rebroadcasting of this program and any use of its name and or representations is prohibited without the written consent of its owners. All commentary of this program by its hosts and or guest is the sole opinions of the hosts and guests and does not reflect the opinions of its owners, agents or representatives.
Tonight's Show is sponsored in part by the following:
Airtight Lifestyle – the ultimate lifestyle site for like-minded Swingers. Join FREE at www.airtightlifestyle.com use referral code: ASNUndergroundShow
ASN Lifestyle Boutique: www.asnlifestyleboutique.com (Lifestyle Adult Sex store)
Partners ID: https://swingersjewelry.net/?ref=3 (Lifestyle Jewelry)
CBD Living Water: http://www.cbdlivingwater.com/?wpam_id=120 (The future of water is here Now!)
GspotRx - https://tinyurl.com/ycrgwu6g
Follow us:
ASN Radio: https://www.asnradio.com/asn-underground-with-mike-sheri
twitter: @UndShowMS
Facebook: https://www.facebook.com/ASNundergroundShow/
Instagram: @asnundergroundshow
Book Us:
To book the ASN Underground Show with Mike & Sheri Call Dante Rusciolelli at Golden Artists Entertainment, LLC - 818-635-7910 or email Dante: dante@goldenartistsentertainment.com Website: https://www.goldenartistsentertainment.com/